SmallBizNews
Here is your FREE quarterly issue of SmallBizNews - a brief and informative Internet Marketing Newsletter offering up to date tips and trends for effectively marketing your Small Business on the Internet. To manage your SmallBizNews Newsletters, ask questions or change your subscription status simply see the subscription details at the bottom of this email.
Be sure to check out past issues of SmallBizNews for other Internet Marketing ideas as well. We invite your ideas, comments and suggestions. We changed our format to a quarterly newsletter in the Spring of 2006 due to time constraints. We hope you will continue to find SmallBizNews an informative resource for your internet marketing efforts.
Google Lab's "Accessibility"
Accessible Web Search for the Visually Impaired
July, 21, 2006
Big news from Google again as they revealed their beta search for the visually impaired named Google Accessible with aims to make their search offering more user friendly for the visually impaired.
Many visually challenged people use screen readers to navigate through the internet. Screen readers interpret (or try to interpret) the elements on a web page and then present the information either through a text-to-speech audio converter or a driving a Braille display for the user. Google's new Accessible Search service is formatted to offer the search results best suited for people relying on screen readers.
In my humble opinion - this is a great advance in Google's algorithms that will help the sight impaired find pages that are less cluttered and easier to understand.
Dr. T.V. Raman, the blind research scientist in charge of this new project - built the service "for purely selfish reasons" after joining Google. Google is one of the top companies for encouraging employees to work on independent projects using the resources of the company. Many of these projects have become part of the mainstream offerings, such as Google News and Google Local.

The new algorithm examines the code on the pages of sites and favors pages with fewer visual distractions that will render well with images turned off.
Google writes:
Google Accessible Search looks at a number of signals by examining the HTML markup found on a web page. It tends to favor pages that degrade gracefully – pages with few visual distractions and pages that are likely to render well with images turned off. Google Accessible Search is built on Google Co-op's technology, which improves search results based on specialized interests. ...

We take into account several factors, including a given page's simplicity, how much visual imagery it carries and whether or not it's primary purpose is immediately viable with keyboard navigation.
What are the implications for Web Developers and Site Owners?
Best practices continue to be the course. Consider the following tips for fewer visual distractions:
Images & animations: Use the "alt" attribute to describe the purpose and function of each visual element.

Image maps - Use the client-side map and text for hotspots.

Multimedia - perhaps it would be wise to offer alternatives such as transcripts for video content.

Links - Use text that makes sense when read out of context. For example, avoid the phrase "click here."

Page organization and layout - Use headings, lists, and consistent structure.

Graphs & charts - provide a short description or summary of the data.

Scripts, applets, & plug-ins - consider providing alternative content in case active features are inaccessible or unsupported.

Tables - Make line-by-line reading sensible. Summarize.

Copy - As always, you should be writing for your target audience and not the search engines.

Don't run - Respond
Google's new search for the visually impaired is leap forward for the visually impaired and should help searchers find pages that are easier to understand.
The only downside I can see for the searchers may be the limited results that will be returned for a given term. For example, if you go to Google and type "Screen Readers" you will see Google reports 97,700,000 results in 0.12 seconds. If you go to Google Accessible and type "Screen Readers" - Google Accessible reports 11,300,000 results in 0.12 seconds - only about 8% of the main search engine results for relevant pages.
My point in these cases is that in the time it takes for website owners to adjust (dare I say - redesign?) their sites to make them more accessible to the sight impaired - searchers may not get the best of the best when it comes to relevant sites in the SERP's.
Just the same, for my 2˘ - Google has made a very wise decision to increase the user experience for searchers with visual impairments. Bravo!
Google's "Big Daddy"
This may seem like 'old news' but a recent inquiry from a prospect I'll call "Slick" (see our Q&A section below) in Manhattan, NY about Google's "Big Daddy" prompted me to write about the topic.

Slick asked a baited question (because he was slick of course), "You've heard of Big Daddy right?" and I decided to decline the bait and said, "No. What is it?" To which he responded, "Only the biggest algorithm update in the history of Google and it's happening right now. (early July '06)"

My Thoughts on Google updates

You may well remember Google's Jagger update that had a large number of website owners and SEO firms running scared - reaction to Google's "Big Daddy" update was no less remarkable to me.

In December of 2005 Matt Cutts (a Google employee) alluded to a major change in the form of a new data center for Google on his blog site.

And, once again, the people screamed,

"The sky is falling!"

Even after Mr. Cutts disclosed in January of 2006 that, "...this is new infrastructure. It should be much more subtle/gentle than an update."

The people screamed,

"The sky is falling!"

Why? Perhaps it is because people fear what they don't understand. Or, perhaps people fear because they do understand - meaning some web site owners and SEO firms were employing tactics that were less than desirable - a.k.a. "Black Hat" optimization techniques.

I did understand and yet I was unafraid - nor were my clients. It pays to play by the rules.

Don't run - Respond.
What's in a name?

The name, "Big Daddy" itself may have struck fear into the hearts of those who ran screaming into the night. But the story behind the name should have quelled rumors that the end was near.
Brett Tabke et al at WebMasterWorld forums have been credited with naming some of Google's more famous updates. But Matt Cutts shared that it was a webmaster named "Jeff M" at PubCon that actually suggested the name over lunch because that's what his children call him - more a term of endearment than the stuff that nightmares are made of.
Don't run - Respond
Which way did you react when you heard the news? Did you run? Or did you respond?
My wife, our two sons and myself are all volunteer firefighters. When others are fleeing from an emergency scene - we are moving as quickly as possible into the emergency scene - during that process our 911 dispatch center shows our status as 'responding'.
Is there adrenaline? You bet. But even in the midst of the chaos - our response is both calculated and coordinated and we rely on our training and our fellow firefighters to get the job done. We work together, as a team, to effect the best possible outcome for each unique scenario.
Let me encourage you, as website owners, to do the same... Don't run - respond. If your web developer and SEO guru have the proper training and good coordination skills - as a team, you will respond to the situation and not have to run.

---
David Williams Provides Organic Search Engine Optimization

Even as I write this article Google is applying new PageRank measurements to millions of web sites.
I can't stress this enough - the same rule we used above applies - Don't run - Respond. This is not the first algorithm adjustment in the history of Google nor will it be the last.
Google is currently updating the way they will measure PageRank and they way it will be displayed on Google's toolbar. As with Jagger and Big Daddy each subsequent update that Google performs causes quite a stir among the 'SEO's, website owners and webmasters in general as they clamor to get their websites at the top of the Google Rankings.
What is PageRank?
PageRank is basically a numeric score between 1 through 10 (10 being the highest) as to Google's "value" of your site in comparison to other websites on the Internet.
PageRank is essentially based on two determining criteria (factors).
The number of inbound links you have pointing to any webpage on your website (PageRank can vary from page to page)

The "value" of the links pointing to your website.
The manner in which Google determines the "value" of your inbound links is a topic of great debate. And, while that debate goes on it is a bit challenging to discern the facts on how the value is calculated. Based on the my professional experience and the best information available from the forums I belong to and Google itself - I can say that the Relevance AND Reputation of the page and/or site linking to you is used in the determination of the page's value.
Remember, "Link Farms" and arbitrary "link swapping" can actually have a negative impact on your PageRank.
In summary, those of us that have been around for a while understand that PageRank fluctuates for essentially two reasons:
1. Google updated their algorithm
2. Links from external relevant/reputable sites increased/decreased
I've shared with you repeatedly that quality content is king and this applies to your PageRank as well. If the information on your site is deemed worthwhile - more reputable sites that desire to link to relevant content will desire to link to the content on your website.
And that's a measurable response!

If you are interested in more information on Google PageRank you can see what Google has to say on the topic here: http://www.google.com/technology
If you wish to see how many sites/pages are pointing to your site according to Google you can go to www.Google.com and type
"link:http://www.yourdomain.com" (don't forget the http://)
It is also important to note that Google may not show the actual number of pages pointing to your site (and the debate continues) but you can also type the same string into Yahoo! and MSN to learn how many inbound links they are reporting.
Effective copy writing is the first step to promoting your web site in your internet marketing endeavors.

We have recognized an increasing trend in search engine behavior that will one day change the way web pages are written and developed. Pages that used to rely heavily on keywords and metatags to lure traffic will soon become a thing of the past.

Trust me on this one as I go on the record to say that soon, the search engines will look at and

review the written copy of the page to determine the page relevance and value to the search query.

When this happens - Effective SEO will become what we have been encouraging since day one. Always write for your clients first - Content is Crucial and Content is King.

The Kelsey research group published these statistics and trends:

74% of households use the Internet as an information source when shopping locally.

Approximately 45% of local searches had a buying intent.

The percentage of respondents who used yellow page directories decreased from 75% to 62%. (If you have a yellow page ad, it is time to consider buying a smaller ad and shifting your marketing dollars to the Internet.)

As local business owners you need to take action now. You need to keep your existing customers, and gain new customers, so you need to be found where they are searching. Local Search Marketing is where your future clients and customers will come from.

So where do you start?

Well, go back to the first paragraph of this article and you'll notice that Local Searches are now over two years old. It is still free to modify your listings with:

Google Local

Yahoo Local

and so on...

These complimentary features of local search and a little initiative on your part and you'll be well on your way.

Write for Your Prospective Clients First
What's New?

BusinessLaw.gov has been incorporated into Business.gov. Before launching your business, be sure to check on specific laws and regulations in your area.

Small Business Administration

A wealth of FREE information, regulations and forms for Small Business Owners every where. Small Business and Self-Employed One-Stop Resource.
Question:

"You've heard of Big Daddy right?" Slick - A real Slick talker - Manhattan, New York

Answer:

Dear Slick,

Nope. And we've never heard of SEO either.

Here's your sign!

All the best,

Dave

Disclaimer: Sorry folks - I caved into my flesh when it came to dealing with "Slick" and I fired him as a potential middleman for clients requiring organic SEO.

I won't work with "slick" people.

I have a fiduciary responsibility to my clients and I take their trust in me and my work very seriously.

My associates - the people I work with to bring my clients the best possible return on investment for their internet marketing dollar are real people with a real desire for a mutually beneficial relationship.

We offer two great FREE Whitepapers for you to download and employ as brainstorming tools. You can get your FREE Web Site Planner and Getting Started Guide from DavidWilliams.Biz on our Free Whitepapers Page

And I would be remiss if I didn't at least extend you an offer to serve as both your Web Developer AND SEO Firm. If I've already put this much thought into it - imagine how hard I would work for you if I was paid :)

Thanks Again for visiting us!






(recent articles only - older issues have been removed)
Check out Dave's actual client case studies to view quantifiable results achieved by David Williams for his SEO clients.
To ask David Williams a question click here.
To Subscribe to SmallBizNews click here.
To Unsubscribe from SmallBizNews click here.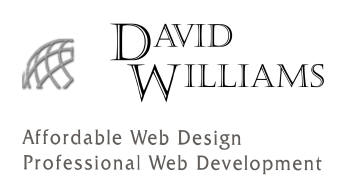 David Williams - Affordable Web Design | Professional Web Development