SmallBizNews
Here is your FREE quarterly issue of SmallBizNews - a brief and informative Internet Marketing Newsletter offering up to date tips and trends for effectively marketing your Small Business on the Internet. To manage your SmallBizNews Newsletters, ask questions or change your subscription status simply see the subscription details at the bottom of this email.
Be sure to check out past issues of SmallBizNews for other Internet Marketing ideas as well. We invite your ideas, comments and suggestions. We changed our format to a quarterly newsletter in the Spring of 2006 due to time constraints. We hope you will continue to find SmallBizNews an informative resource for your internet marketing efforts.
Google's New Webmaster Guidelines
Are your web design practices in line with Google's expectations?
June 11, 2007
Google has updated their webmaster guidelines, in an effort to provide better information for website owners and webmasters wanting to follow Google's best practices in Ethical Web Design practices.
It is imperative that all web designers, SEO's and Website Owners understand and adhere to Google's Guidelines for Webmasters to avoid penalties and improve natural & organic listings in Google's SERPs.
Matt Cutts announced the updated webmaster guidelines & quality guidelines, at Danny Sullivan's recent SMX conference in Seattle. You can check them out here:
http://www.google.com/support/webmasters/bin/answer.py?answer=35769#quality
Call me today for a needs assessment and estimate. (607) 276-2223 or email me at: Dave@DavidWilliams.biz
July 7, 2007
Rumors abound that Google may be dropping their supplemental index.

Matt Cutts shared:
Over time, the supplemental results are less and less supplemental and more and more likely to show up for any given query. As I mentioned at SMX Seattle, my personal preference would be to drop the "Supplemental Result" tag altogether because those results are 1) getting fresher and fresher, and 2) starting to show up more and more often for regular web searches.
Right on time in my opinion as a web designer and SEO. There has been so much ado about Google's Supplemental Results that it has created quite a stir in the world of seo since it was launched in the fall of 2003.
Originally, the supplemental index was designed to create a database of pages with lesser known topics or pages that were relevant to a particular topic that may not have made their way into Google's main index.
Even though pages in the supplemental index did in fact show up in search results there was a negative perception surrounding being listed in the SI - and perhaps rightfully so.
The stir came in when alarmists rang the warning bell to website owners and webmasters alike. In my opinion - the stir was nothing more than a means to worry all involved unnecessarily. As a result, website owners who discovered that many of their pages were in the supplemental index would panic and begin spending money and time to correct this "problem of epic proportion."
I have one particular client that ended up in the supplemental index for one (1) web page that was announcing the launch of a new product line by name. Searchers weren't even aware of the new product or its name so it only made sense that Google might well deem it as 'not as important' as other pages on this client's website and place it in the supplemental results. It was only a matter of time before this new product page came out of the supplementals and into the main index and later ranked very well.
All without panic and the unnecessary expenses of wasted time & money.
The rumor is by the end of this summer - the SI will be migrated to the main index.
Why am I glad? Not because of the re-routing of SI itself - but because it will quiet the stir among other professionals in the industry and help us return our focus to more pressing matters in the SEO and design of Search Engine Friendly websites.
Dynamic vs. Static Web Development
Here we go again... revisiting an all too familiar argument among developers and SEO Professionals - and the debate continues.

But, since it is still worthy of discussion I will venture into the topic of Dynamically Generated Pages vs. Static Pages as it relates to Organic Search Engine Optimization.

Dynamic Web Pages

Most dynamic web pages are generated in response to queries run against databases within the website. When a visitor comes to your website and looks for 'peanut butter and raspberry jam sandwiches', it is this database that supplies the response by building the page from a specified template and returning the results from the database that match the variables in the query.

Certified Organic SEO
While the search engines are getting better at reading them, dynamic pages are created on the fly with technology such as ASP, Cold Fusion, Perl and the like. These pages function well for users who visit the site, but they don't work well for search engine crawlers (spiders).

Why? Because dynamically generated pages don't actually exist until a user selects the variable (s) that generate them. A search engine spider can't select variables, so the pages don't get generated properly -– and therefore can't be indexed as easily as static pages.
The biggest problem is that search engine crawlers such as GoogleBot cannot always read the entire dynamic database of URLs, which either contain a query string (?) or other database characters (#&*!%) known to be search engine spider (crawler) traps. Because search engine crawlers have problems reading deep into a dynamic database, they've been programmed to detect and ignore many dynamic URLs.
Static Web Pages
In contrast, static web pages with static URL's in their navigation hierarchy tend to fare much better.
Why? Because there is a real page with real content linked via real hyperlinks that make it simple for search engine spiders to crawl the site in its entirety.
Again, as Google (Yahoo!, MSN/Live) endeavor to return the most relevant results possible in their SERP's. It only makes sense that their means of delivering the most relevant possible results in their Search Engine Results Pages (SERPs) are based upon the data collected by the search engine spiders.
Content Management Systems (CMS) are great for reducing steps for employees - but at what price to your ranking in the search engines?
Want Good Ole' Fashioned Search Engine Friendly Results? Roll up your sleeves and do some Good Ole' Fashioned Organic SEO on Static Web Pages.
The answer is clear - Ethical Organic Search Engine Optimization and Web Design
Google's suggestions for Quality Web Pages fall under three basic criteria:
1. Provide relevant and substantial content

2. Treat a user's personal information responsibly

3. Develop an easily navigable site
Seems like good guidelines to me :) If you desire ethical web design & development and approved Organic Search Engine Optimization...
David Williams Provides
Ethical Organic Search Engine Optimization and Web Design
SEO Using Only Approved White Hat Tactics
Effective copy writing is the first step to promoting your web site in your internet marketing endeavors.

We have recognized an increasing trend in search engine behavior that will one day change the way web pages are written and developed. Pages that used to rely heavily on keywords and metatags to lure traffic will soon become a thing of the past.

Trust me on this one as I go on the record to say that soon, the search engines will look at and

review the written copy of the page to determine the page relevance and value to the search query.

When this happens - Effective SEO will become what we have been encouraging since day one. Always write for your clients first - Content is Crucial and Content is King.

The Kelsey research group published these statistics and trends:

74% of households use the Internet as an information source when shopping locally.

Approximately 45% of local searches had a buying intent.

The percentage of respondents who used yellow page directories decreased from 75% to 62%. (If you have a yellow page ad, it is time to consider buying a smaller ad and shifting your marketing dollars to the Internet.)

As local business owners you need to take action now. You need to keep your existing customers, and gain new customers, so you need to be found where they are searching. Local Search Marketing is where your future clients and customers will come from.

So where do you start?

Well, go back to the first paragraph of this article and you'll notice that Local Searches are now over two years old. It is still free to modify your listings with:

Google Local

Yahoo Local

and so on...

These complimentary features of local search and a little initiative on your part and you'll be well on your way.

Write for Your Prospective Clients First
David Williams is proud to be a small business owner in the United States

Small Businesses in the United States

(defined as independent businesses with fewer than 500 employees):

Represent 99.7 percent of all employer firms.

Employ half of all private sector employees.

Pay more than 45 percent of total U.S. private payroll.

Have generated 60 to 80 percent of net new jobs annually
over the last decade.

Create more than 50 percent of nonfarm private gross
domestic product (GDP).

Supplied more than 23 percent of the total value of federal
prime contracts in FY 2005.

Produce 13 to 14 times more patents per employee than
large patenting firms. These patents are twice as likely as
large firm patents to be among the one percent most cited.

Are employers of 41 percent of high tech workers (such as
scientists, engineers, and computer workers).

Are 53 percent home-based and 3 percent franchises.

Made up 97 percent of all identified exporters and produced
28.6 percent of the known export value in FY 2004.

Sources: U.S. Bureau of the Census; Advocacy-funded research by Joel
Popkin and Company, Jan. 2002 (see www.sba.gov/advo/research/rs211.pdf);
Federal Procurement Data System; Advocacy-funded research by CHI
Research, Inc., Feb. 2003 (see www.sba.gov/advo/research/rs225.pdf);
Bureau of Labor Statistics, Current Population Survey; U.S. Department of
Commerce, International Trade Administration.

What's New?

BusinessLaw.gov has been incorporated into Business.gov. Before launching your business, be sure to check on specific laws and regulations in your area.

Small Business Administration

A wealth of FREE information, regulations and forms for Small Business Owners every where. Small Business and Self-Employed One-Stop Resource.
Question:

"I am considering updating my Windows XP machine to Windows Vista. Any suggestions or advice?" Terry - Allegany County, New York

Answer:

Dear Terry,

I'd wait just yet before completing the update to the Windows Vista OS as their are known issues that have not yet been patched/fixed.

Typically, it is wiser to be the last kid on the block to own a toy that works vs. the first kid on the block that owns a toy that works - well, most of the time.

There is a plethora of complaints out there. Just Google Windows Vista Problems and see how you feel then.

All the best,

Dave

We offer two great FREE Whitepapers for you to download and employ as brainstorming tools. You can get your FREE Web Site Planner and Getting Started Guide from DavidWilliams.Biz on our Free Whitepapers Page

And I would be remiss if I didn't at least extend you an offer to serve as both your Web Developer AND SEO Firm. If I've already put this much thought into it - imagine how hard I would work for you if I was paid :)

Thanks Again for visiting us!






(recent articles only - older issues have been removed)
Check out Dave's actual client case studies to view quantifiable results achieved by David Williams for his SEO clients.
To ask David Williams a question click here.
To Subscribe to SmallBizNews click here.
To Unsubscribe from SmallBizNews click here.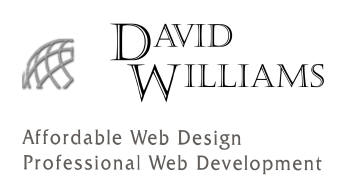 David Williams - Affordable Web Design | Professional Web Development